Jointer – the obvious and hidden Real Estate Investment Jewel on the Blockchain
3 min read
I always wanted to do real estate investment.
I liked the upside potential of getting a house for cheap and flipping it.
I never savored the idea of being in a yucky dirty house but I was willing to go through with it.
But now I don't have to!
Enter Jointer – daily commercial real estate investment on the blockchain
How it Works
1. Jointer holds a daily auction allowing investors to win JNTR at a discount
2. Investors participate in the daily Jointer Auction by contributing funds
3. Daily JNTR supply is distributed to all investors on a pro-rata basis
4. Investors can hold/sell their JNTR at any time while the face value changes based on demand
What's in it for me?
First off, everyone is going to need BNB to participate … so sell the mining equipment instead of looking for gold!
That's right – go buy BNB coin and hold because it's bound to go up IMHO!
Next, buy (and hold!) Bitcoin because everyone needs bitcoin to exchange for BNB! It's still just 13k per coin
Finally, register at STEX so that you can participate in the daily auctions
STEX is where these auctions are held every day.
4500% ROI to Date! (THIS IS *NOT* a TYPO!)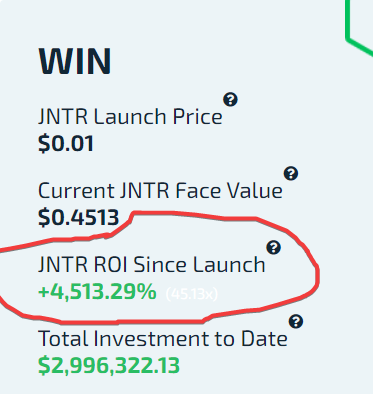 Related Articles
CoinIdol has an excellent article on Jointer. I like Coingape's article as well. The interview between the founder of the STEX crypto exchange and the founder of Jointer is quite enlightening.
Common Questions
The current market price of Jointer is 45 cents per coin – … but who is willing to pay 45 cents on the open market when they can simply participate in the auction at get it at a sizeable discount?
The auction has a limited supply per day. Plus "Investment Power" will trigger soon
from the whitepaper:
Investment Power
Investors must hold JNTR to participate in the daily Auction, effectively placing a hold on selling a relative amount of JNTR as well as increasing buying demand on the secondary market. Investment power is equal to the amount of unlocked/unstaked JNTR held in an investor's wallet. Investors can invest in Jointer's Auction up to 100% (1:1 face value) of their unlocked/unstaked JNTR holdings at the time of the investment.
If an investor does not have enough investment power to participate in the auction, they will either need to unlock/unstake their JNTR or purchase more from the secondary market or SmartSwap.
Example
Investor holds in the wallet $100 worth of JNTR
Investor may invest up to $100 in the auction
Investor will need to unlock, unstake, or purchase more JNTR from other users via the secondary market to invest more in the Auction